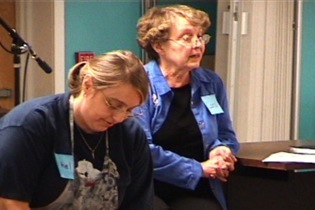 A Visit to the Potters House
This is an inspirational workshop/talk, appropriate for churches and women's groups (non-potters).  My mom and I have done this "tag-team" talk several times for various women's groups at our churches and a women's retreat… We call it "A Visit to the Potter's House" (from Jeremiah 18 in the Bible).  I talk about and demonstrate the process that a pot goes through (throwing a pot, trimming/adding handles to leather pots, dropping/destroying a greenware pot to demonstrate the necessity of the kiln), and my mom speaks about how everything that happens in life is used to shape us into the person we're meant to be. 

"Clay Days" for Scouts and Homeschoolers
I provide a two-session Clay experience for groups of homeschoolers or Scouts. On Day 1, I provide a studio tour and demonstrate the process that the clay goes through, and then lead the participants through hand-building a clay project. (Choices include bowls, clay whistles, or votive candle holders, among other options.) On Day 2, the participants return and glaze the bisqued claywork, which then is fired.

Next Steps…
If you are in the DC/MD/VA area and are interested in having us bring "A Visit to the Potter's House" to your group, contact me at [email protected].